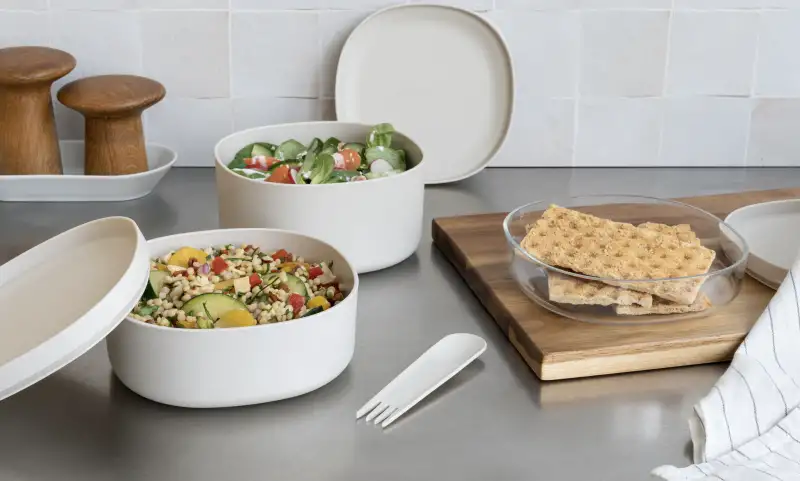 Amuse
Strategy / Brand / Product / Touchpoint / Activation
Preparing a salad? Bringing lunch? Freezing leftovers? Admit it, storage boxes and sets are all too often lifesavers. Within the highly competitive food preservation market we have been supporting Amuse in their growth towards a lifestyle consumer brand.
Growth Loop
A product for every taste
Amuse is dedicated to creating lifestyle products that simplify your daily routine, not add complexity. During their Growth Loop research phase, we studied trends in food and materials as well as people's habits when eating on-the-go. This resulted in a selection of quality food storage solutions, designed with both function and style in mind. From bright bowls to modern water bottles, their newly released product line has something for every taste.
Back in 1960, Amuse invented the first ever lunchbox. Three decades later, they established themselves as a pioneer in IML. IML stands for In-Mold-Labeling, or as we like to call it: a blank canvas to unleash our illustration skills. We developed several illustrations for Amuse's Back To School collection, adding a playful twist to their traditional lunchbox.
Tasty and inspiring touchpoints
Amuse's new photography is fresh and contemporary and highlights their products' iconic design and trendy, vibrant colors. Our next step was to develop multiple online and offline touchpoints, making the whole brand appear to be tasty and inspiring.
"Equals Three listens carefully to each briefing, dares to challenge us with well-founded arguments, and delivers results that are usually better than what we had in mind. Our collaboration has undoubtedly been foundational to the growth of our brands for the past seven years."
Inspired by this case? Curious how we can make your growth count? We're happy to share our thoughts and discuss your challenges.
We'll get back to you as soon as possible